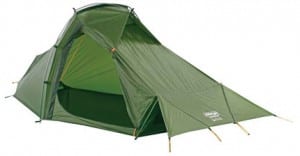 Vango makes some great tents, but they aren't what you want for serious expeditions. Nonetheless I'm including a Vango Tent review here because the Vango Ultralight 200 fills a really great niche and may interest a lot of people.
First off, why do I say this tent isn't for serious expeditions on high mountains? As much as it is a great tent, it just isn't aimed at the kinds of activities that something like a Mountain Hardwear EV2 is designed for. The latter tent is meant to be strong enough to survive strong winds and heavy snow at an altitude of 7,500 meters on big peaks such as Everest or K2, the Ultralight is, as its name suggest, meant to be really light. Take the difference in weight. Most expedition-grade tents clock the scales at about 4.5kgs. Something like the EV2, which has all unnecessary weight trimmed out of it still comes in at about 2.5 kg. And it needs every one of those grams to be strong enough to do what it is designed to do. The Ultralight 2000, on the other hand, weighs a meagre 1.3 kg. That means it fills a niche for people who really need to travel fast and light such as adventure racers, people participating in mountain marathons and other similar sports where comfort is cut down to a minimum to allow for fast movement.
This Vango tent achieves its very low weight by having a fairly simple design with a really low profile. Its material is also light as are its alloy tent poles.
That's not to say this thing will be a pushover in wind or storms. It has internal bracing, which is a lightweight way of adding strength and its profile also allows it to hug the ground in strong winds. You still need to peg and guy it properly to get the benefit but it is surprising stable for such a feathery package.
Like many other tents you have the option of just pitching the outer fly sheet so you can travel even lighter. But that does sacrifice quite a bit in terms of comfort and transforms it into little more than a tarp shelter. The inner helps keep warmth in and some of the condensate away from you. If using only the fly you really want to vent this quite well so that the flow of air takes away your perspiration and the moisture that you breathe out so that it doesn't all gather on the inside of the fly and then drip down onto you. That said, the Vango 200 is a pretty good compromise and you could do a lot worse than to get this.
Vango, which makes it, is a very British company and is not readily available everywhere. In future I'll write up some of the other super-light weight tents out there that are made by other companies such as MSR for readers in America and elsewhere.