Alpkit has made a real name for itself in the past few years for making great quality gear at amazing prices and the Alpkit tetri looks set to continue this tradition.
First some background for people outside the UK who may not know much about Alpkit. This is a company that started a few years ago with just a few products that were great quality but that easily sold for half the price of the big-name brands. So their entry into the world of mountaineering tents has generated a huge amount of interest.
Overview of the Alkit Tetri
Alpkit bills the tent as a 2 person, 3 season backpacking tent weighing in at 3k. It comes in two rather unfortunate colours, Kelp and Chilli (I got Kelp). It is also pretty reasonably priced. I paid £125 for it (though I think it was on sale). 
It has a fair bit of space in its vestibule, so you have space to store you pack and boots and to cook in foul weather. 
The specs on the tent are not best in class, but they are pretty good considering the price at which it sells. The weight comes in at 3kg, and you can strip that down by ditching the inner (750g) and little porch groundsheet (which I don't even bother with normally, at 120g) to take it to little more than 2kg.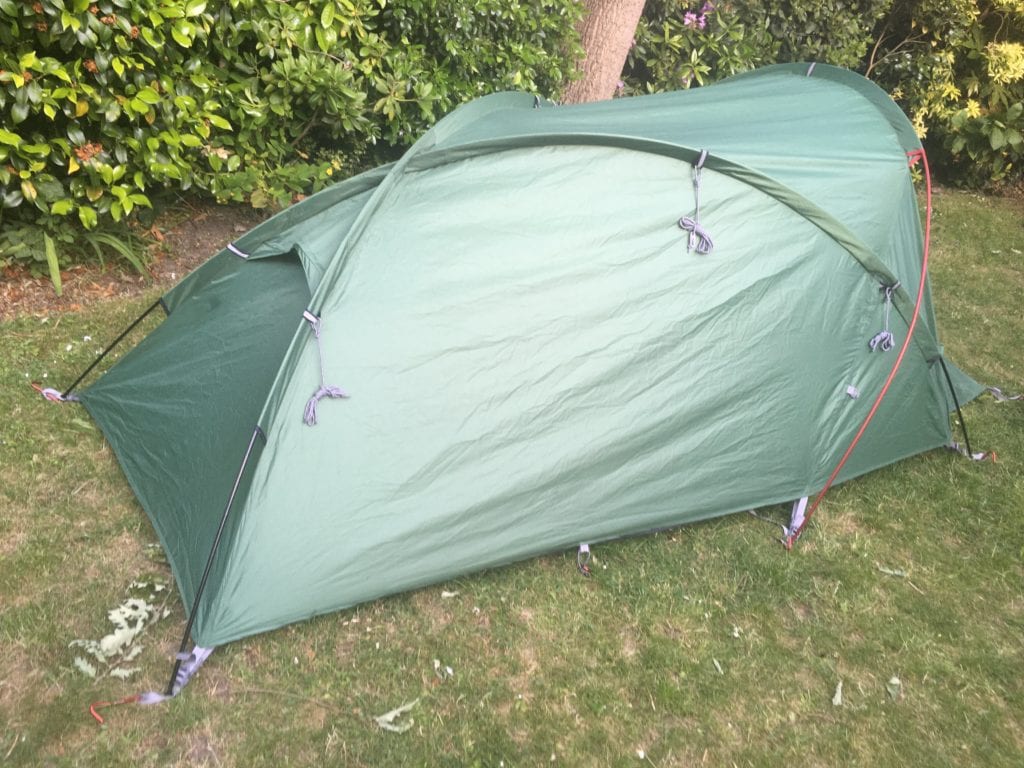 Testing the tent in anger
Sadly, because of the covid-19 lockdown, I've had far less opportunity to test this tent in the field than I might like. The first use of this tent was in the Peak District in Castleton for an overnight camp in a lowland camp site. The site was sheltered, so did not give a real sense of how this tent would stand up to strong winds or bad weather. But it was certainly spacious enough for me and a 10-year-old and our gear. It has the usual stash pockets that you would expect (little mesh pocket at the back for a headtorch and glasses etc and a hanging loop on the ceiling). It is easy to pitch with colour coding on the poles, so even a beginner will get it right the first time round. It struck me as well made and it looked durable enough. It packs down small enough to squash down into my Lightwave Wildtrek 60 with cooking an and sleeping gear (though to be fair I wasn't doing multi-day walking so had snacks and a few packs of noodles for supper). All in all it passed the first test with flying colours.
The real stress test came during the first lockdown in 2020, when my two boys moved out into the garden with the dog for the 2-week school holiday. Each wanted their own tent so I pitched the Kangri and Terra Nova Laser Competition 1. Again all the usual caveats apply. This was in a garden sheltered by big trees and pitched on a soft lawn. So it was not a test of extreme wind and mountain weather. But it was a pretty good stress test in a couple of other ways. Anyone with kids will tell you they are a destructive force to rival nature. In past family car-camping trips, the kids and their mates have managed to rip inners from a tent, destroy pegs hammering them in skew and generally cause damage.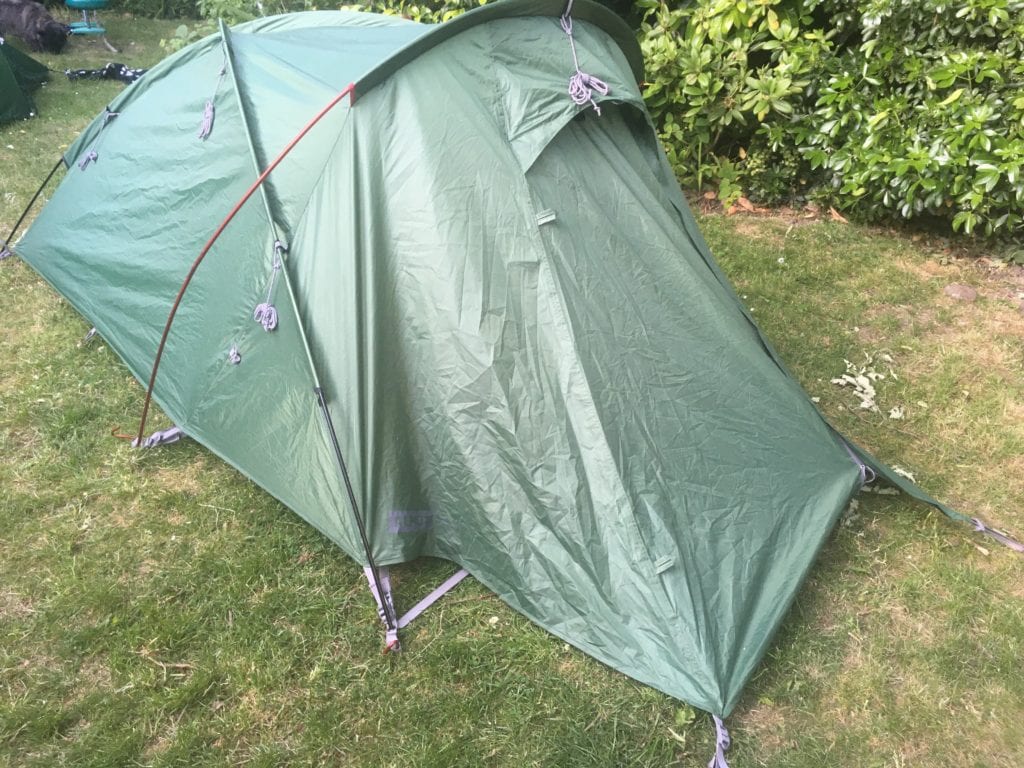 But I'm happy to say that both tents passed this 2-week stress test with no apparent damage. And then, when half-term came along, the kids pitched the tents again for another week, and the same for a few weeks in the summer break. In all both tents had probably 5-6 weeks out in the garden exposed to sun, rain, bird poop and visiting foxes. I didn't notice any leakage through the taped seams during some pretty rainy days. And there seemed to be no apparent bleaching or other UV damage, though it may be too soon to tell. All in all the Alpkit Tetri was probably one of the best value £125 that I've had, for pretty much anything. My only regret is that it is too small for me to take both my boys wild camping, so I will either have to walk with 2 tents or risk the anger of my wife in trying to explain why I need yet another tent.
I don't do stars on these reviews, but if I did I'd happily rate this top for value and usability.