To try to lighten my load and also because I'm doing a lot more solo camping these days I recently bought myself a new Terra Nova Tent, the laser competition 1. The following Terra Nova tent review gives my initial impressions as well as my experience camping wild on the high moors in North Eastern England in freezing temperatures. So far this tent has held our really well and I'm more than happy with my purchase.
Overview of the Terra Nova Laser Competition 1
The first thing about the Terra Nova laser competition is that it is incredibly light. A few years back it was probably the lightest tent on the market, though it has now been superseded by much more expensive, if somewhat lighter tents. The tent's listed weight is 910grammes (2 pounds) and you certainly feel it the moment you pick it up. That compares incredibly favourably with the weight of a lot of bivvies on the market, yet provides the space of a real tent with proper gear storage alongside. The Rab Storm Bivvy, for instance, weighs about 2/3 as much (or about 600 grams) and doesn't give you space to store gear or cook (yes, I know, you have to be really careful cooking in a tent). I'm not saying that Bivvy bags don't have their place, but unless you need to sleep on a narrow ledge or are carrying one as a survival bag, then you are better off with a tent like this.
If you want to cut the weight even further you can strip down to an even more minimalist shelter. You can pitch it with only the fly sheet and no ground sheet or inner. Or you can use Terra Nova's fastpack system, where you get a minimalist footprint to go under the tent, leaving you with a lightweight single-skin shelter.
The tent is pretty compact. The manufacturer claims that it can sleep two people in a pinch. Well, they would have to be really good friends, and even so you would have to dispense with the inner tent and just use the outer as a shelter. That said, it would keep you dry and reasonably warm in any sort of 3-season outing.
The way in which the manufacturers have dropped the weight dramatically is by using very light and thin materials. The inner and outer are the lightest and thinnest I've seen on a tent (think of a really thin stuff-sack and you will get the idea). It has a single hooped pole to provide stability and two small carbon fibre poles at each end to give a bit more shape. Frankly I couldn't see the point of them and didn't bother – perhaps one of you can tell me why I'm making a big mistake not using them. The pegs are very light alloy but worked just fine. Even so I took a few stronger ones along just in case. I'm told the previous version used springy titanium pegs that always pinged off into the distance and were instantly lost. These didn't give that trouble, dug in easily enough and held firm. There are two guy lines, one at each end. They seems a bit low to me, but what do I know. I also would have appreciated another two on the fat-sides of the tent to stabilise the single hoop in strong winds. People tell me that instead it just bends before the wind (best to pitch it hoop-side to the wind).
Pitching the competition 1
You know that old and wise bit of advice about putting up your tent once at home before heading out. Yep, it is sensible. But I'm not always a sensible chap, so I decided to pitch for the first time on a hill it in the dark and wind in freezing temperatures with fingers numb from having forgotten to pack my gloves. It took me a bit of time, a few choice swear words, several efforts and more choice words before I got it pitched to my reasonable satisfaction. As the picture above shows it didn't look exactly taught or neat in the warm light of day. Even so it was perfectly adequate and held up well on a windy night.
The Competition 1 in use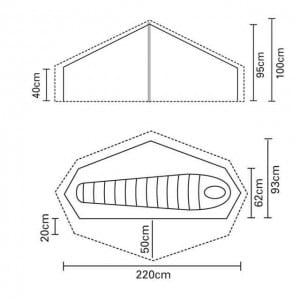 In use I found it a wee bit cramped with either my head or feet touching the walls. That may have been because I didn't use the extra two carbon fibre poles to space it out a bit. I also found that there wasn't much ventilation. It was a freezing cold night so I didn't want too much, but I did wake up in the morning with a fair bit of condensation frozen to the inside of the tent walls. I know this always happens in the cold, but the lack of a vent would probably be troubling in slightly warmer weather.
In all other respects this is a really well thought out tent. The inner has a nice big bug screen so in dryer weather you can open up the fly sheet and not be bothered by insects. It has tabs in all the right places to roll away flaps and the like. The guy ropes have great little locking cleats so you just pull them tight and they lock in place. The zips felt high quality and the construction seemed to be to a very good standard. The tent comes with a small set of fabric patches and other spares to do little repairs. That said, I would worry slightly about how it would stand up to extended use in tough conditions because the material is so thin.
Verdict
Despite my  complaint about the lack of ventilation and the worry about how durable this tent is I wouldn't hesitate to recommend it or use it again. I will certainly take it along in about a two months when I go hiking in the Pyrenees for a week with some friends. Normally I would take my heavier 2-man mountain tent (about 2.5kg) and split the weight with a friend, but this is so light that I will be better off carrying my own tent and not having to share with a snoring, farting, smelly tent-mate. It also really opens up options for met o do a lot more solo wild camping whereas previously I'd either have to carry a very heavy tent or slum it in a bivvy. This tent is not cheap, its list price is £330, but I paid £100 less for it online. This didn't seem to be a closeout or anything, just a good price so Google around before you buy. At the price I paid it felt like a real bargain compared with the cost of a good breathable bivvy bag or even a much heavier tent. If money is no object then there are some other Terra Nova Tents to consider such as the Laser Ultra 1 tent, which lists for £800 and weighs about 500 grams. It is more or less the same design (as best as I can tell) but uses even lighter fabrics and titanium tent pegs. A cheaper and slightly heavier option from the same manufacturer (but sold under the brand of Wild Country) is the Zephyros 1 tent. This is available on sale for less than £100 and weighs about 1.4kg. It comes in a more expensive and lighter version (1.15 kg) for about an extra £70 depending on where you buy it.