I'm ashamed that it has taken me this long to finally getting around to writing an MSR Whisperlite Review. I should have done it ages ago because it is not just one of the best liquid-fuel stoves out there, it is also by far one of the most popular.
A quick description
The Whisperlite is the best selling stove made by MSR (Mountain Safety Research), one  of the biggest names in quality outdoor gear. The reason this stove is so popular is because it is light, rugged and fairly easy to use. It is also incredibly versatile and will serve as a handy workhorse whether you are climbing, hiking, trekking or just camping out in the woods. It is also a whole lot quieter (hence the name) than its cousins, the DragonFly and expedition stove, the MSR XGK. It is also a fair bit lighter than the other two. The tradeoff is that it does not have the very fine simmer control of the DragonFly nor is it built like a soviet era tank in the way that the XGK is.
Why consider it?
A liquid-fuel stove is great because you always know exactly how much fuel you have left just by sloshing it about. With a gas canister you never quite know. Liquid-fuel stoves are also more fuel efficient and have a more constant boil time, whereas gas canister stoves become sluggish when it is very cold and when the gas canister is less than half full. So if you are planning on doing longer expeditions or going into cold and high conditions then this will serve you well.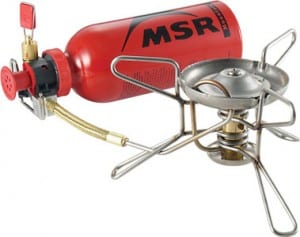 Why might you not want it?
If you are planning low-level hiking and camping and mild conditions and you want the simplicity of just being able to open a valve and light the stove, then you would probably prefer a gas-canister stove or something very light and easy like a Trangia stove.
The Whisperlite also falls behind in the simmer department. It more or less has two settings, off and blastoff. Think of trying to cook on the aft-end of a jet fighter with its afterburner ignited and you'll get the picture. So if you plan on doing fancier things than boiling water for pasta, then you should consider one of the other stoves with better simmer control such as the DragonFly.
Detailed Review
The basic stove consists of a few main parts:
The main burner, stand, potholder and and fuel pipe (these are all in one)
A fuel pump that goes inside the fuel bottle and pressurises it
A fuel bottle
a windscreen
small parts kit (for repairs etc)
a heat reflector to go under the burner
The total weight of the stove itself (including everything but the fuel bottle) is listed by MSR as 14.5 oz (or 410 grams) but you can strip it down to a minimum weight of 11 oz (305 grams) by MSR. That's about a quarter lighter than the bigger MSR DragonFly stove that I've already reviewed (and used in most parts of the world)
 Boil Time
MSR lists the boil time on this stove as 3.9 minutes for 1 litre of water. I haven't double checking that (I had been meaning to, which is why I have held off from writing this review for so long) but it actually seems as if they have understated its boil time rather than having overstated it. In some tests that were done by Trail Magazine in the UK (see the chart to the left), the MSR Whisperlite International  had a boil time of  a bit less than 3 minutes (all using white gas, or benzine). So it doesn't seem to me that they are pumping up their numbers. I've written a brief post on how different stoves compared in this camping stove comparison test.
Burn Time
MSR lists the burn time for this stove as 136 using a 600ml fuel bottle. I've also not done a comparison of my own by know from long experience using the DragonFly stove that I can easily go for 5 days through the mountains without having to refill my fuel bottle. I usually used it to boil up some water for coffee in the morning and again to make supper (pasta or something similar) so in truth it probably doesn't burn for much more than 15 minutes or so a day in my experience. This has also held true for me at altitudes of up to abut 6000 feet, without me noticing any particular increase in burn time or decrease in fuel efficiency.
Ease of Use
As far as pressured liquid-fuel stoves go, this is pretty easy to use. You just need to assemble it (in far less than a minute), pump up the tank to get some pressure, preheat the burner and light the jet. All of this takes just a few minutes. It is also relatively clean and easy to stow away. But as easy as this is, it is still more of a fuss than you would have from simply lighting a gas canister. And white gas does smell bad if it leaks and is not as easy to clean up as the alcohol that you would use in a Trangia or some other sort of alcohol burner.
Compactness
The stove folds down into a pretty compact package. Because you separate the fuel tank, you end up with two really small bundles.
Reliability
In my experience, MSR's gear is generally well made and lasts a lifetime. The MSR Whisperlite is a simple stove with not much that can go wrong. Get a small spare parts kit and you should be fine (though I've honestly never even had to change the rubber gaskets on mine after more than 10 years – my spares kit just sits around gathering dust).
I've also heard few complaints about the reliability, though if you try hard enough to find some you can get a few over at the Trailspace review page. In general most of the user reviews of this stove over there are pretty good.
Suitability for Expeditions
If you are planning on a serious expedition to a remote part of the world then I would suggest you consider a different stove. I'm sure readers will tell me I'm wrong on this and that they've used their Whisperlites all over the world and I'm sure they have. But white gas is not always widely available so you want a stove that can burn different fuels. The MSR Whisperlite International does offer this option (I'll give its specs below) but there are dedicated expedition cookers such as the XGK that are generally more rugged and that seem to clog up less easily (and are also really easy to clean).
MSR Whisperlite International
This is the multi-fuel version of the MSR Whisperlite and it adds the ability to burn kerosine and unleaded auto fuel (petrol in the UK) to the standard white gas/benzine that the ordinary one uses. It weighs just a tiny bit more, but is more or less identical in terms of its specifications. Interestingly MSR gives it a quicker listed boiling time for water, which seems a bit odd to me since the jets are more or less the same – I suspect it is just down to variation in testing.
What do Other Reviews Say?
Whisperlite International stove came up as "best in test" in a series of reviews by Britain's Trail Magazine (July 2011). They rated it aboce the three other finalists, a Jetboil Helios, Jetboil Flash and Trangia Stove.
Their verdict on it was:
The classic stove for colder climates and travelling into remote areas where petrol and diesel are your only fuel options.