Some bits of gear are just so darned simple and reliable that it is hard not to love them. The Trangia stove is one of them. Well,  I should say Trangia stoves because there is a whole range of them in a variety of sizes. Yet they are all still true to a very simple engineering philosophy that has made them firm favourites in quite a few circles and they still have a special place in my heart. In this Trangia stove review I will run through why I love mine so much, but don't use it all the time.
How does the Trangia stove work?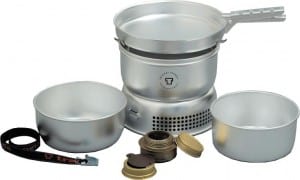 The Trangia is a great little cooking set that uses a really simple alcohol burner. At its heart is a brass burner (in the traditional model) that holds alcohol such as methylated spirt. The heat from the flames on the stove boil and pressurise the alcohol inside the burner, causing it to come out of little jets as gas that then burns. It is really simple and has nothing much that can go wrong. It also generates a really quick heat with very little fuss.
On top of this goes a windshield and cooking pot or pan or even a kettle. The whole set fits together really well and stows into almost nothing. It also comes in a variety of sizes and materials with the most modern being ultralight titanium which is harder and longer-lasting than the older aluminium models.
The Trangia stove's advantages
The great advantage of the Trangia range of camping stoves is their simplicity and reliability which means they hardly ever go wrong or break.
They come in a variety of models so they work for a number of group sizes. These range from the Mini Trangia which is great for a single person and is designed to be really light for adventure racing and similar competitions, up to the Trangia 25 which works for a family or group of 4.
There is no fussing with pumps or trying to get pressure or fiddling with gas canisters.
Trangia fuel is readily available in most parts of America and Europe.
It is small and light and all packs away nicely.
The system is quite modular so you can add pots, a Trangia kettle, extra pots, a gas burner or a multifuel burner quite easily.
It is a complete set with pots and pans included so is great for people who are starting out.
The fuel is not as volatile or smelly as white gas or other liquid fuels used in multi fuel stoves (such as diesel or kerosene). This also makes it safer to use in a tent's vestibule than some of those fuels.
It is quiet
It can accept a Trangia gas burner which connects to a gas canister giving you the best of both worlds.
The Trangia's disadvantages
It does not burn as hot as propane and butane gas canister stoves or white gas stoves such as the Primus Omnifuel or MSR Dragonfly.
The fuel efficiency is not very good. This is partly because alcohol stoves have lower efficiency than other stoves but also because alcohol has a low energy density.
Fuel can be hard to find in remote parts of Asia, Africa and other developing countries.
There is no real heat control beyond full power and a single reduces power setting that you can get by putting a simmer ring onto the stove to partly block the jets.
You need a separate fuel bottle which ends up adding bulk (though this is true with all liquid fuel stoves)
What do other reviews say?
The gear guy over at Outside Magazine reckons that the biggest disadvantage of alcohol stoves such as the Trangia is their longer cooking time. He thinks that the:
Typical time to boil for a quart of water: eight minutes, versus four or fewer for a white gas or propane stove. That differential grows as the wind increases, as alcohol stoves aren't pressurized—they're simply burn a pool of alcohol and so are very wind-sensitive.

Still, for some campers in some conditions these stoves work perfectly fine. Particularly for summer camping in benign climates, an alcohol stove would perform well and would pay dividends in weight and simplicity. Check out the slick little Trangia 28 ($30), which comes with its own cookset. Not even 12 ounces for the whole shootin' match—less than most stoves alone weigh.
The guys over at Ultralight-Hiking.com say in their Trangia stove review that:
Alcohol as a fuel for tramping and camping is a far better option than the alternatives, such as gasoline (petrol), white gas, kerosene, or even pressurized butane or propane. The main advantage is in my view the relatively harmless affect on nature in the event of a spill. Alcohol is water miscible unlike some other fuels. Lets face it: we all have spilled stuff before, especially when tired, dirty, aching, hungry,……well you get the picture.
A comparative review of several stoves by Britain's Trail Magazine (July 2011) listed it as one of its finalists (the winner was the MSR Whisperlite International). They liked the fact that the Trangia 27-5UL is simple to use and still works in the wind but criticised the fact that you can't control the heat very well and also that the whole setup is relatively heavy and bulky. They also don't like its slow boil time. Their final verdict was:
A classic cooking system that's ideal for campers who prefer to keep things relatively safe and simple.
My verdict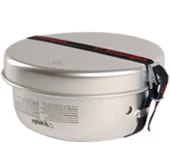 I have a really soft spot for the Trangia stove and other similar alcohol stoves. But I don't use one. The truth is that for big trips I'd rather have a serious white gas or multi fuel stove with me (my usual go to stove is a MSR Dragonfly) and if I want something fiddle-free I use a simple gas burner (in my case a MSR Pocket Rocket). I don't have anything against alcohol burners, I just don't see the need. That said if I was buying something for one of my boys to take on their first scouting trip I'd probably get them something like a Trangia solo because it is simple and is a great way to get started. That way they'll have their own camping stove and I won't have to worry about them losing mine.
[table id=1 /]