Think of a dumb animal for a second. Okay, I'll bet it was a sheep! After all, how much intellectual prowess does it take to hang around in a field all day eating grass. They can't even think for themselves and follow each other around like, um, er, sheep.
Sorry to say this but sheep have been given a bum rap. They are way more intelligent than they get credit for.
Research has shown sheep are very good at recognizing faces and can even figure if a face shown to them is happy or sad (I don't even want to know how they work that one out). But nowhere is their intelligence greater than in their wool.
Think about it. We've been working on synthetic fabrics for about 100 years or so. Most of our favorites like Malden Mills' Polartec has been around for less than half that time.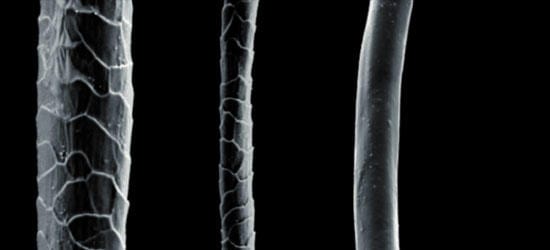 Sheep on the other hand, have been quietly standing around cold hills working on their face recognition skills and evolving warmer coats for like millions of years. So who's got the upper hand?
Wool is making a major resurgence on the climbing gear scene, helped in large part by the efforts of two companies. Smartwool and Icebreaker.
Both have taken merino wool (pictured in the center on top, with traditional wool to the left and synthetic fibre to the right – thanks to Icebreaker) and come up with a way of making it less itchy  and packaging it in cool baselayers, tops and sweaters. I tried my first in 2004 and won't go back.
My Icebreaker top wicks pretty well and even when it does wet through in heavy going, does a great job of keeping me warm. Better still it doesn't stink after a couple of days on the hill the way my PowerDry, Helly Hansen and no-name polypro kit does. It's comfy, warm and looks great. What more could I want from a top.
I'm not about to do a huge review here but the debate in climbing circles seems to have moved away from whether merino is better than synthetic (if you want more this question there is a great article on how wool beats synthetics hands down over at Backpacking light) on to which of the two brands are the best. I've only experienced Icebreaker so far and can vouch for it's quality. There is a big debate about the merits of Smartwool vs Icebreaker. I think both are good though they each have their quirks.
Most people have only experienced one or the other and give the one they have glowing reviews, so the odds are you could get away with buying either and being really happy with your purchase.
One opinion I respect is that of Dave Hunter who runs the Rock & Run gear shop. He figures that Smartwool is the best, saying:
We could stock Icbreaker. We don't because Smartwool is superior product.

If Icebreaker have sorted out their seams (ie if they are now flatlock) and their cuffs then they'd be nearly as good. And you'd be better with Icebreaker or Rab merino than a polyester. But Smartwool is better.
In brief Dave Hunter really likes this about Smartwool:
their ability to deal with perspiration
the fact that they don't feel clammy when wet
they don't smell.
The downside is
their cost
they aren't suited to people allergic to wool
they cause static.
As for me, I really like Icebreaker and haven't had any problems with the seams. They are a bit scratchy, but are also seriously warm.
My only beef is that my favourite Icebreaker top got eaten by moths. That hasn't stopped me wearing it, but I do look a little, er, ragged.
Updated in April 2011 – I've recently been trying otu a few Smartwool t-shirts and long-sleeved tops and I really like them. I think that they are a bit softer on the skin than my Icebreaker t-shirts and they do seem to be a bit more durable. The more I talk to people the more I'm getting the sense that Smartwool is the tougher of the two.