After a far-too-long absence from the hills and mountains because of work, family and the like, I'm finally about to get back out on a good, solid walk. And what better walk to do than to undertake what a lot of people have been calling Europe's toughest trail, the GR20 that runs along the spine of Corsica. I've gotten a bit out of shape so have had to do some serious preparation to hike the GR20 including building up my strength and stamina and getting my gear in order.
I'll talk about some of these in more detail in later posts, but here's a quick summary of some of what has been keeping me busy lately.
Getting in shape for the GR20
There is a lot of talk out there about how tough the GR20 is, but not a huge amount of detail on exactly how fit you need to be to do this hike. For instance the great GR20 Blog says:
 You need to be fit, well trained but most of all you must be highly motivated.
There is also a great interview on the really fantastic site (I highly recommend you check this out if you haven't already) Corsica For Hikers (you can get it here) that talks about how physically demanding this walk is. In the interview with Sally she says:
I did a lot of training before I went but wish I had done a little more to strengthen my arms because they ached alot from using them to pull myself up the rocks. I also wish I had more experience on walking downhill over all the boulders as I lacked the confidence to go fast.
So what's my approach to getting fit for the GR20? I used much the same approach that I did for earlier big hikes including my attempted ascent of Mera Peak in Nepal. This consists of:
Running approximately 3 times a week (between 4-7km each run). The running is to build up aerobic capacity and leg strength, both of which really drive your ability to push yourself on big hike.
Going on a few long day hikes with a weighted pack. In this case, I just wanted to toughen up my feet a bit to get used to my boots and also to get used to carrying a pack again. I loaded up a mid-sized climbing pack with about 7-8kg and did a few 12-14km walks, most of them in the Chiltern hills north of London where I came across some interesting looking cows (see below) and a warning to watch out for unexploded ordinance (see more below).
Strengthening exercises such as push-ups, squats and, my favourite, standing on one leg while brushing my teeth. This last exercise sounds stupid, but you can really feel it working and building up the muscles in your ankles, which helps make you more resistant to sprains and injury. It  also works your balance.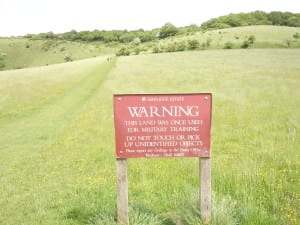 As for equipment, I'm planning to travel as absolutely as light as possible on this trip. My pack should come in at not much more than 8-10kg (I'll have to check that in a day, before I leave) as I won't be carrying a tent and will use refuges along the way. I am being forced to stock up on a few extra things including a rather irritating item bed bug sheet because the refuges are said to be crawling with bed bugs. I'm a bit worried about this so ordered a Lifesystems bed sheet. The best way to think of it is as a mosquito net that goes over your bed in the refuge, and it is treated with permethrin, a persistent insecticide that should kill them. I'll let you know how it goes.
Update – 6 July 2013
All packed and ready to go – pack weight is 10kg before water, so 13kg with a full load.