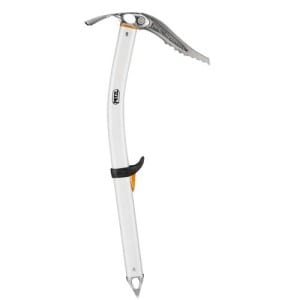 A lot of what I keep saying in this site is that you really need to find an ice axe that fits your style and your budget and that you shouldn't get too hung up on having the perfect piece of kit. Then along comes something that blows that advice away. In the case of the Petzl Sum'Tec, however, you just have to look at this. It is not cheap by a long shot, but if you're into climbing, this is an awesome climbing axe that is well designed, incredibly well thought out and well loved.
Trail Magazine just awarded it their "best for climbing" award in January 2012 issue . They reckon that this new ice axe is:
"perfectly balanced for both plunging and swinging and the trigger can be put in the perfect position depending on what technique you are employing. A flexible axe that will take on everything from winter Munros to fairly technical climbs."
Another set of rave reviews comes from the American Alpine Institute which gave it a "guides choice" award. They say that the Petzl Sum'Tec:
"combines the qualities of a technical mountaineering ice axe – thanks to its curved shaft – and a classic mountaineering ice axe. Light and versatile, this ice axe has an adjustable hand rest and an interchangeable pick."
Outdoor Gear Lab also really liked it. They said:
This is one of the heavier ice axes we tested and a little overkill for moderate routes. But if you climb a lot of steeper terrain, this ice axe is tough to beat.
Speaking of weight, The Petzl Sum'Tec ice axe weighs in at a respectable 485g for the 52 cm shaft. This is a T-rated shaft and comes in 52cm or 59 cm lengths (the longer one weighs in at 505 grams)