I've been a real fan of the Primus OmniFuel stove for a while, so I was really excited to get word that the company's newest invention, the Primus OmniLite Titanium stove is about to be released in stores this December.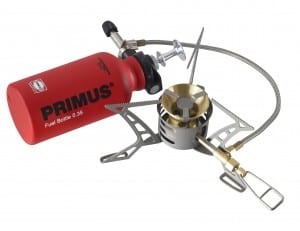 I've thought for a while that the OmniFuel probably deserves the mantle of being one of the best if not the best mountaineering stoves on the market. The OmniLite Stove builds on that reputation with an ultra-lightweight stove made of titanium. The stove weighs in at just239 grams (although that goes up to 339 grams when you add a pump and even more once you include a fuel bottle and cookware).
That compares with a base weight of 339 g for the OmniFuel (441g including pump).
The main weight savings come from using titanium in the windscreen, legs and pot supports. In addition, Primus says the new stove has a burner that has been optimized to work best with heat-exchanger pots such as the Primus ETA pot. It claims that you will get better fuel efficiency (and thus a lower fuel burn) with the new stove compared with the OmniFuel.
The burner was explicitly built for the usage of special pots with a heat exchanger like the Primus Eta Pots: compared to the OmniFuel, the younger brother consumes less fuel thanks to a optimized heat output.

Moreover, the reduced distance between nozzle and flame spreader results in a strong flame and therefore less heat loss at the sides. OmniLite Ti is classified with an efficiency of category C, but in combination with the super efficient Primus Eta Pots the stove jumps up to level A (the highest efficiency class in a scale of four steps).
You can find out more by visiting the manufacturer's website.