If you are like me, you'll often want to be wearing a simple, light approach shoe for a lot of your hiking instead of always using a heavy boot. In that case you should take a serious look at the Hanwag Drifter, a lightweight cross between a boot and a shoe that seems really suited for most conditions.
First, a question as to why shoes instead of boots. I know this is an emotional subject for a lot of people because boots are something that most hikers feel especially passionate about. And with good reason. Uncomfortable footwear can really ruin a good day or week in the hills.
That said, I'm been moving steadily towards lighter footwear over the years as I feel it leaves me feeling a lot more energetic. I want some support, especially when crossing rough terrain with a heavy pack, but I don't feel that I need or want heavy boots with big shanks all of the time unless I actually need the stiffness because I'm using crampons.
Enter the Hanwag Drifter GTX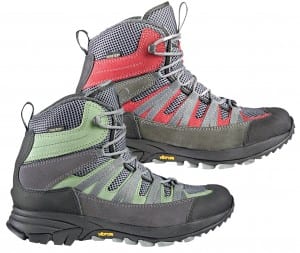 This is more of a shoe than a boot. It has the cushioned construction that you would expect to find in a running shoe. It is pretty solidly made and comes from a company that has been making mountaineering boots for ever near Munich, so its gear is regularly used in the Alps by some pretty demanding Germans.
It has a proper knobbly sole, so you needn't worry that these will lead to slipping about on the hills as if you were wearing a pair of trainers and they use Vibram, which is pretty much the benchmark of all good boot soles.
These shoes/boots (I don't even know what to call them) come in a normal/low cut version and also a high cut one so that you can choose your level of ankle support.
Most important of all is that they have a gore-tex lining so they keep your feet dry, which makes them suitable for winter use too.